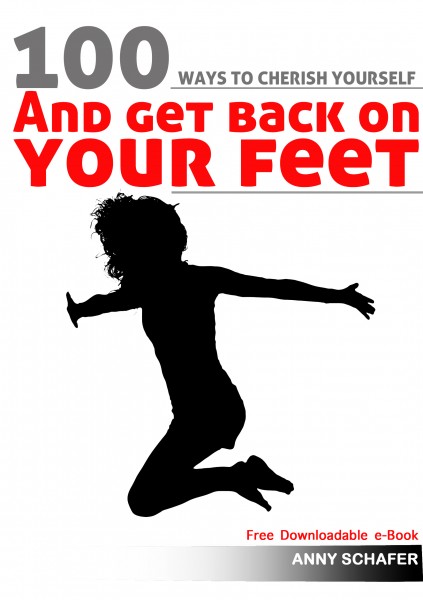 ENJOY A 100 WAYS TO CHERISH YOURSELF AND GET YOU BACK ON YOUR FEET
---
Congratulations on downloading my free eBook – 'Enjoy a 100 Ways to Cherish Yourself and Get Back on Your Feet'. I hope you enjoy it as much as I enjoyed writing it.We are all human and self-care is a basic human necessity, which leads to inner peace and joy. That means that we must love ourselves first before we are able to love others; just like the Bible says.
I have been deeply moved by the stories you've shared with me about the impact abuse has had on your lives (some have even come out of institutional abuse) and I would like you to know that you are not alone.What you must realise is that chronic abusers can be great actors such that so many people around them remain ignorant of the physical, emotional and mental impact they inflict on those they are supposed to love, cherish and protect.
However, the healing process takes time and requires a lot of support from friends and family. As you go through it, you need to know that not everyone will show you the understanding and care you require and this could have a negative impact on your health, if you let it. But I encourage you not to let this stop or slow you down; instead pick up yourself and make a decision not only to survive but to thrive, whether you have support or not.
God has a way of providing support from unexpected sources; be it through a stranger or someone who genuinely cares for you – just like He did for me. A few months ago, I went to a church for the first time in eighteen months [I will share that experience with you soon].Indeed, help will come from different people; those who are not blinded by either false perceptions or deceptive impressions; people who will not give excuses where there are none but who genuinely care about your well-being. My heart goes out for those I have heard about; who have been permanently injured by an abuser, who have lost their sanity as a result of their experiences and even those who lost their lives because of what has been done to them by others. Sadly, they are soon forgotten and the lessons of their lives, never learnt.
Learn from their stories and remind yourself often that your life is your own so don't get thrown off balance by the things that have happened to you, ending up addicted to drugs, associating with the wrong company or becoming an alcoholic.Be determined instead, to take back control of your own life and take care of yourself. It is never too late to build your confidence back with these little acts of self-care and kindness even if you have been starved of these things yourself.
If you find yourself through post-traumatic stress stemming from your ordeal and nothing you are doing seems to be helping, go and see your doctor or get some professional help.
Writing this eBook has been cathartic and once I finished, I remembered how much I enjoyed writing and have since continued to do so. I have also started writing poetry; some of which I promise to share with you soon. Now, it's your turn - I would love to hear from you, let me know how '100 Ways to Cherish Yourself and Get You Back on Your Feet' has encouraged you; share with me things, you enjoy the most as well as any that have not been included here, I am happy to learn from you. Download your free copy if you have not received yours and share it.
Most of all, I hope this eBook puts a smile on your face and leave you feeling joyful.
Comments